As we all know, Amazon is one of the highly-rated e-commerce portals where one can simply sell and buy products online. Amazon India was launched in the year 2013 and presently trades millions of goods over its platform. Any seller having its own brand manufactured product can be easily listed on Amazon for sales. However, selling products with their own brands requires brand registry approval from the amazon support team.
In this article, we will provide you with in-depth information regarding how to obtain the Amazon Brand registry and its process. Let's understand in detail – 
What is Amazon Brand Registry?
Amazon's Brand Registry is a program which recognises brand owners to Amazon. It supports brand owners to protect their intellectual property and product content on Amazon. Amazon Brand Registry also provides brand owners access to additional marketing programs, including Enhanced Brand features etc. This program helps original owners by restricting sales of duplicate products on amazon via other fake sellers.
Before discussing the Amazon Brand Registry process, you need to ensure the availability of requisite below documents required for Amazon seller Registration.
Documents Required for Amazon Seller Registration
 Here is the entire list of the documents required for registering business on Amazon:
Business registration proof varies based on the business entity in which you are

operating

the business.

MSME Registration

, Shop establishment Certificate, Municipal License and many more are easily considered for Amazon seller registration.

GST registration

 is compulsory for Tax Registration Proof

to onboard on

Amazon portal.

Bank account

details

are required for

payout the sales amount earned via Amazon portal.
You are equipped with all the necessary documents. Now we discuss the eligibility to register with amazon brand registry and its process.
Eligibility to Register with Amazon Brand Registry 
These are some of the required eligibility for Amazon brand registry in India – 
To register your Brand with Amazon Brand Registry India, You must require a seller account with Amazon India.

For registering in a Brand Registry program, you must need a 

trademark Registration

 under the

specific trademark class to which your product belongs.

Thirdly, your brand name must be affixed permanently on the product package which you desired to sell on amazon.
Once you have secured a Trademark Registration, Now go to brand registry.amazon.in and select Enroll a new brand. After that, you'll need to complete a three-step simple process to apply for Amazon Brand Registry India.
Process for Amazon Brand Registry 
There are three easy steps For Amazon brand Registry India
Step- 1 Complete the inquiry Brand qualification section of the Amazon Brand Registry 
Choose your trademark type either wordmark or design mark.

Fill your Trademark Registration or Serial Number. 

Next, Amazon will ask as to whether your items have an affixed brand name and logo then, You have to answer yes.

Otherwise, If you don't have your image name or logo affixed, you can't participate in Brand Registry.

Enter your image name to be enrolled, and afterwards click next to proceed.
Step- 2 Upload products, packaging and logo images
Product and Packaging pictures must describe the item with noticeable branding. 

Logo pictures should just explain the logo by itself. 

Uploading pictures don't fulfil the necessities will bring your Brand Registry application being rejected. 
Step- 3 Complete the characteristics
You have to specify the nation where you make and circulate your products and that's it the application is truly straightforward.

While listing your product, you have to complete the

Barcode Registration

which provides a unique identification.

Each product sold on amazon uses a unique identifier such as UPCs, EANs, ISBNs and GTINs.

You can also list your products which don't have such UPCs, GTINs etc., by submitting a GTIN exemption request.

 After you submit, it will take around 2 weeks to approve from Amazon.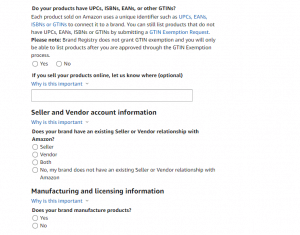 Note- Brand Registry does not grant GTIN exemption and you will only be able to list your product after you are approved through the GTIN exemption process if you do not have GS1 Barcode registration of the product.
In case you need any further guidance with regards to online Trademark Registration, please feel free to contact us at 8881-069-069.
Now you can also Download E-Startup Mobile App and Never miss the latest updates relating to your business.