Commencing an Import-export business is one of the best approaches to attain your profit goals which are higher to do well in the international market. Selling the product in the domestic market may lead to getting a limited amount of profit margin. But practising the initiative to make a foothold in the international market needs thorough product expertise in the target market as well. Be it import or export; you should require a particular amount of Import Export Capital. In this blog, we will discuss How To Start Import Export Business In India.
How To Start Import Export Business In India
The Export/Import business is essentially an expansion of trade boundaries wherein several business models exist. Just like the established business, a person with the requisite Export/Import license can sell his produced goods to clients abroad, can act as an intermediary between the local manufacture and overseas buyer or vice versa, and can be directly purchasing good produced abroad and trading them in the native market.
Is Import-Export business in India profitable?
The import/export industry is a high-profitable, Because of the low cost, most of the money you earn on commission is yours. Hence, an Import-Export Business builds a profitable business requires commitment and a good knowledge of the business. 
Points before Starting Import Export Business
There are following points before starting the import-export business.
Right Product
The initial point to view while starting foreign trade is a choice of the right product. You should examine the product range before making a selection. You also need to study the export and import trend.
Market Potential
The next step after selecting the product is finding market potential. You require to do a market analysis to find out competition, product consumption, and related export benefits.
Payment Terms
You require to consider applicable payment terms, the currency used in a transaction as well as payment mode well in advance. It will aid in maintaining transparency in the business.
Risk Coverage
You are also required to assess the risk connected with this business. The major risk you will encounter while doing this business is payment risk. 
Mode of Transportation
You also necessitate deciding the mode of shipment. The shipping can be arranged via air route, sea route, road, post parcel etc. The costing linked in each mode is different.
Profitability
It is very important to check the profitability associated with the product you choose. Higher profitability is probable to give you instant success in the business.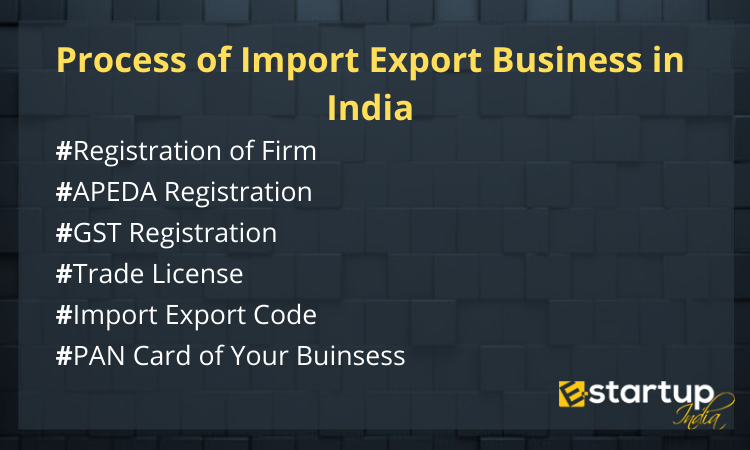 Process of Import Export Business in India
Licenses Required for Import Export Business In India 
If you commence an Import Export business, you have to obtain these registrations and licenses.
Registration of Firm:
To commence the Import Export business in India, firstly, obtain Company Incorporation or Company has to be established as per the procedure.
GST Registration:
GST registration helps you in getting your business recognized as a and also opens several opportunities for your business. So It is obligatory to get GST Registration for each business.
Trade License:
A trade license is a document/certificate that permits the applicant to commence an appropriate trade or business in a particular area. So it is necessary to Obtain Trade license from provincial authorities.
APEDA Registration:
The exporter is compelled to receive an APEDA Registration. It is like confirmation of approval from the Govt. concerning the standard of your product.
Import Export Code: 
Import Export Code or IEC is a 10 digit key business description number that is required to International Trading. Also, the registered Import Export Code is needed while filing for Registration cum Membership Certificate, properly understood as RCMC for APEDA membership.
Required PAN of your business 
A PAN card is a digital system that controls a person's or a company's tax-related activities, through a single Permanent Account Number. 
However, If you require any other guidance concerning APEDA Registration, GST Registration, IEC Registration, Company Incorporation, please feel free to contact our business advisors at 8881-069-069.
Download E-Startup Mobile App and never miss the brand-new updates relating to your business.