Computers have become an essential element of our daily routines. We now live in a digital age, when everything we do is done online. When it comes to business, laptops are a need. The truth is, they're second nature to the vast majority of people. You may have seen folks working on their tablets, laptops, or tiny computers while on the road. Because of the growing use, there is also a rise in the need for laptop repair services. In addition to normal use, abrupt power interruptions, hard handling, or even an accidental drop necessitate immediate laptop repair. If you also wish to start laptop repairing business shop, this article is for you. In this article, you will get to know the stepwise method to start laptop repairing business shop in India.
Why start laptop repairing business shop in India?
In India, we are experiencing a tech boom. Especially, after covid, laptops have become a necessity rather than being a wealthy toy for the wealthy.
Laptops are here to stay, and their sales are booming, thanks to the rise of online education and the favorable response to the work-from-home lifestyle.
Computer and laptop repair is one of the most skill-intensive industries. It doesn't need a significant outlay of cash aside from your time and expertise.
You may either start in a brick-and-mortar location or go mobile and provide service to customers where they are.
Laptop adoption has grown exponentially in recent years, reaching far into the country's rural areas.
As a result of this, many parents are increasingly purchasing laptops for their children's education at home.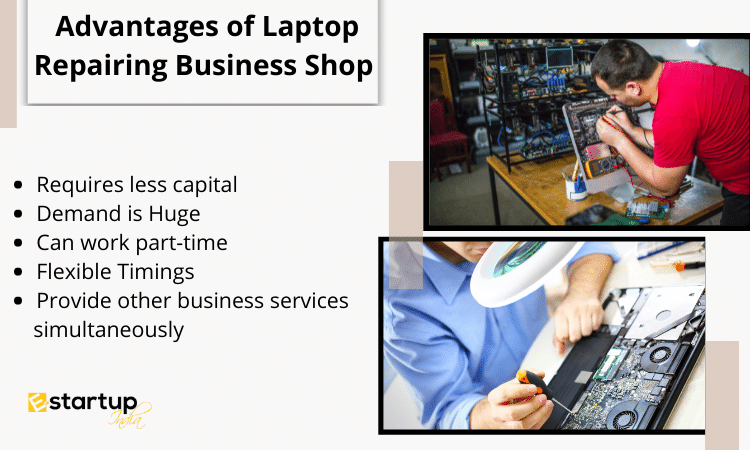 Steps to start laptop repairing business shop in India
Build up your financial reserves
When beginning a laptop repair business, it's critical to have some money set up for startup costs before taking on your first client. These are some of the costs that may be involved:
Equipment and tool purchases
Renting a retail space
Obtaining a business license
Certifications and licensing fees for professionals as well as company permits and training for employees
Additionally, it's a good idea to have some emergency funds on hand. In the event that your firm expands, you'll be able to use this money to pay operating expenditures in months where you don't meet your billable work targets.
However, you can also avail a business loan and operate your business easily.
Obtain essential business registrations and certifications
It is via the Shop and Establishment Act that employees in a unionized industry can have their rights recognized and their working conditions regulated. Hence, one of the primary business registration that you need is Shop Establishment Registration in India.
You will also need to register your business with the Indian Government. Hence, you can get Company Registration from any of the following options as per your requirement.
While certification isn't required to operate a Laptop repair business shop in India, it does offer value to the owner and manpower.
For one thing, it shows that the company is capable of dealing with more difficult laptop repair issues, and that might give the owner a leg up in the race for new customers.
Some of the beneficial certifications for your Laptop Repairing Business Shop in India are:
Determine the cost of your laptop repair services.
When you're just getting started, it might be tempting to lower your prices. This tactic, on the other hand, may backfire. Making it difficult for you to raise your pricing in the future since customers will anticipate cheap prices to persist.
It's also possible that you'll be perceived as the "cheaper" alternative rather than the best.  Thus,
You'll need to take on additional consumers to meet your business expenditures and pay your salary if you become stuck in a low-price cycle.
Find out how much other repair businesses charge in your region, and then establish your own pricing appropriately. Aim to charge a price that is competitive with your competitors, while also taking into consideration your own costs.
Location
If you want your laptop repair business shop to expand and succeed, the location matters a lot.
When working from home, you'll need to get a few two-wheeler vehicles for your service employees so they can get around.
If you want to run your business out of a storefront, you'll need to consider things like rent and the mobility of your customer service staff.
Marketing of your services
There are many ways to get the word out, but you need a well-thought-out marketing strategy as well in order to get the word out about your new business in the long run.
Your first objective should be having a Website Development for your laptop repair business. Use your website to tell people about your work, who you collaborate with, and how they can get in touch with you. Your website should be both professional and responsive to mobile devices.
Conclusion
The above-mentioned are the steps to start laptop repairing business shop in India. If you have any other queries, feel free to get in touch with our business experts.
Moreover, If you want any other guidance relating to Company Formation. Please feel free to talk to our business advisors at 8881-069-069.
Download E-Startup Mobile App and Never miss the latest updates narrating to your business.