Jewelry is an integral component of Indian tradition and has always been the wearing of precious metals and gemstones as jewelry. Many people are now opting for more sophisticated and artificial jewelry. According to a recent study, the demand for artificial jewelry has risen by a staggering 86%. It is estimated that the counterfeit jewelry industry in India is responsible for 5.9% of India's total gross domestic product (GDP). Thus, there are several benefits of starting an artificial jewelry business in India. In this article, you will know the stepwise procedure to start artificial jewelry business in India.
Benefits to Start Artificial Jewelry Business
Yes, there are several opportunities available to start artificial jewelry business in India. Some of the reasons are as follows:
Cost-effective replica jewelry ornaments are handcrafted and may be customized to meet the needs of the wearer.
You may wear it every day and complement your costumes and outfits with it.
Jewelry is a big part of Indian women's lives, and it's not just for special events.
The market for online jewelry businesses is enormous, and the costs of starting a business are lower than those of owning a store or shop.
Online platforms have stepped in to help small businesses by increasing awareness, selling infrastructure, and more.
Procedure to start artificial jewelry business in India
Choose the Business Model
You can start artificial jewelry business in India through various business models. For example:
Wholesale Business – You'll need to get in touch with the manufacturers of counterfeit jewelry and buy from them based on your wholesale business model requirements.
Reselling Business – This is a low-cost business model in which you purchase artificial jewelery and guarantee that the items are pushed and resold among your contacts or clients in order to earn a profit on their purchases.
E-Commerce Platforms – When starting a jewelry company, one option is to make jewelry at home and sell it on platforms like Amazon or Flipkart. Many small businesses use these sites to advertise their brand and cut down on the expense of putting up an e-store, which is a big benefit for small businesses. You can also utilize Website Development services and have your own website.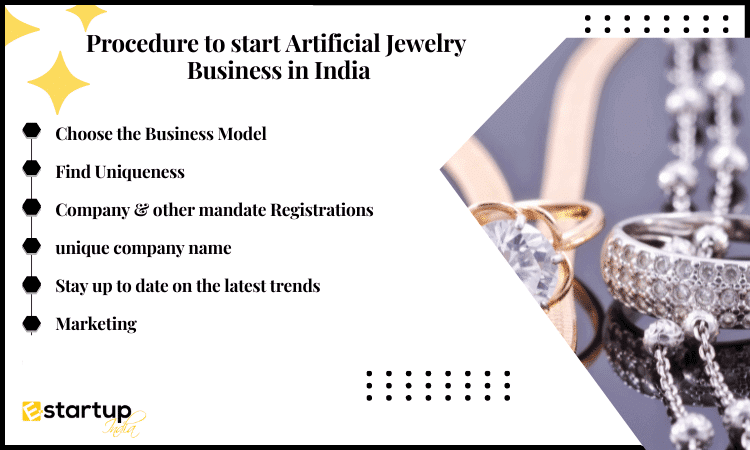 Find Uniqueness
After determining how to start a jewelry business or a business model, you will need to identify your USP or Unique Selling Proposition. This is the most important step. This makes you stand out from the competition and immediately increases your sales. Consider what inspires and intrigues you, how your items are unique, the market in which you sell, and the amount of inventory required.
Company Registration 
Starting a jewelry business requires you to work with reputable distributors of artificial jewelry. Most reputable businesses only work with startups having online Company Registration and GST Registration. Furthermore, you must have Company Registration to legally commence your business in India.
Unique company name
A unique name for your business plays a critical role in the complete business journey from registration to marketing. Therefore, you must  keep in mind the following tips while choosing a business name:
The name of your company should be original and not already taken by another company.
The name must be brief, easy to read, recall, and pronounce in order to be memorable.
Your name should express your message, brand, and style to your consumers and target demographic.
Furthermore, you need to have Trademark Registration and ISO Certification to protect and well-establish your business to be unique and successful as compared to your competitors.
Stay up to date on the latest trends
An astute businessperson bases his or her conclusions on proper research. Research the goods, designs, and fashions of your competitors. Your clients expect you to provide them with fresh and innovative items and designs. You can also take inspiration from the styles worn by celebrities. In the end, the goal is to maximize your earnings through your own style and well-researched items.
Marketing
If you don't want to miss out on potential clients, it's imperative that you prepare and implement a strategy for attracting people. Regardless of the size of the company, marketing is critical.
Moreover, If you want any other guidance relating to Company Formation. Please feel free to talk to our business advisors at 8881-069-069.
Download E-Startup Mobile App and Never miss the latest updates narrating to your business.