Most Indian adults drink roughly 2 cups of tea each day on average; however, depending on the temperature and the person's mood, this number might rise. As a result, the tea industry is one of the most promising. If you want to start your own business in India, one of the easiest options is to open a tea store. So, there is huge scope to start tea business in India.  In this article, you will know about the important factors to start tea business in India.
Another benefit is that the tea shop's size may be customized to fit the entrepreneur's investment budget.
In addition, tea shops typically have a loyal client base that buys from them on a regular basis if they enjoy it and find it convenient. Consequently, a tea store owner who creates a solid reputation for the quality, pricing, and other aspects of the tea will have frequent customers.
How to start Tea Business in India
Make a Business Plan
Before beginning any new company endeavor, it is critical to design an appropriate business model. A business Plan and Project Report are key when starting a new business.
This includes knowing what type of business you want to open (such as a tea bar or stall), what items and services you'll offer and at what price point (profit margins), your initial investment (including any assets), and where you'll get those products and services (such as a wholesale market).
A detailed business plan and project report made by professionals also help you in getting a business loan and start tea business in India.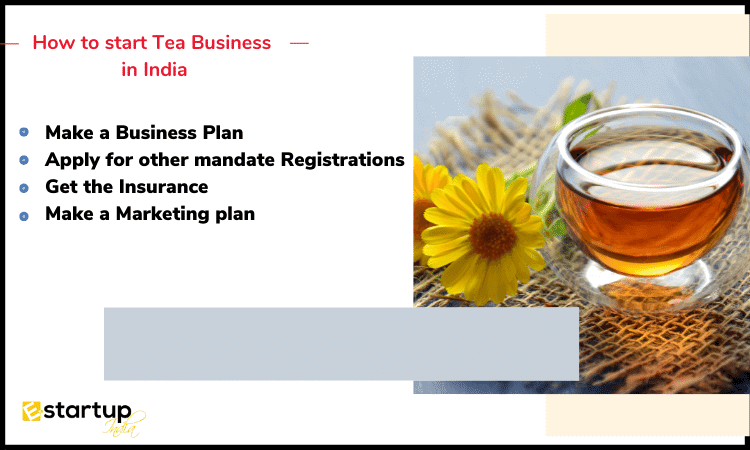 Apply for other mandate Registrations 
The registration and licensing of any firm are critical. Each business model has its own set of license requirements that must be met in order to operate legally. After Company Registration, you need to get the following registrations or licenses.
Get the Insurance
It is essential to have adequate insurance coverage to safeguard the tea stall company from any unforeseen events. The risk aspect of the firm is protected and safeguarded by insurance. In addition, it relieves the owner's financial burdens by serving as a lifeline in times of need.
Marketing
In today's modern world, a tea stall business in India can be elevated to a new level with the use of an online ordering website. The notion of creating a high-quality website that encourages users to purchase tea online is a brilliant one.
Furthermore, modernization may be employed to promote the tea stall company as well. The sales rate will go up, and the company's reputation will improve, thanks to Website Development, Internet advertisement, and branding.
The best method to reach a larger and more diverse group of people is to use online features and promotions. However, the primary factor that contributes to both again in audience size and a stable level of interest is the product's level of quality.
Advantages & Important things to keep in Mind
With the growth of tea stall businesses in India, several corporations are willing to provide a franchise to someone interested to start tea business in India. An individual with prior tea stall expertise might go out on their own and start their own business. In contrast, if you're just starting out, taking a franchise is a safe bet.
The location of a tea stall company is one of the most important considerations to take into account. The tea shops located near medical facilities, courts, train stations, and other major transportation hubs make more money than the tea stalls located in more rural areas. Consequently, choosing a suitable site is an important part to start a tea business in India.
In any tea business in India, the unique selling proposition (USP) is of utmost importance. Creating high-quality mixes and varieties can help you gain a larger market share and make a profit.
Basic facilities like water, electricity, and gas are only needed to get a tea business up and running. Sugar, milk, and other ingredients are just some of the kitchen implements included in this set of essentials. Lastly, An extra cost of setting up a medium-sized tea stand is only purchasing chairs and tables.
Conclusion
To start tea business in India, you need not invest a lot of money. However, you need to invest a lot of your time and understanding to get the mandatory registrations, do market research and plan effective ways of marketing. With the guidance of an expert, this becomes easy.
Moreover, If you want any other guidance relating to Start Tea Business In India, please feel free to talk to our business advisors at 8881-069-069.
Download E-Startup Mobile App and Never miss the latest updates narrating to your business.