Increasing your company's visibility, income, and profitability are all aided by entering new markets throughout the world. Indian businesses have an edge in exporting and importing because they can reduce manufacturing costs and enhance earnings. If you wish to start an import export business in India, you must know about the types of Import Export Business in India. In this article, you will know about the types of Import Export Business in India.
Why start Import Export Business in India?
If a corporation sells products and services both locally and globally, it is referred to as an Import-Export Business. As a result, e-commerce has made it feasible for companies of all sizes, from tiny start-ups to established medium-sized organizations, to purchase and sell globally.
To begin an export company in India, there are a number of advantages. The fundamental reason why many small to medium-sized enterprises in India may effectively employ the import-export model is that they have access to low-cost labor and supplies.
In addition, India has a vast range of natural resources, making it simpler to get raw materials for manufacture. For companies looking to expand internationally, India is a genuine treasure.
India has a large market and one of the largest populations in the world. Hence, consumption of import items is also high.
There are also Major Import and Export Ports in India that make Import Export Business feasible and beneficial.
What are the Types of Import Export Business in India?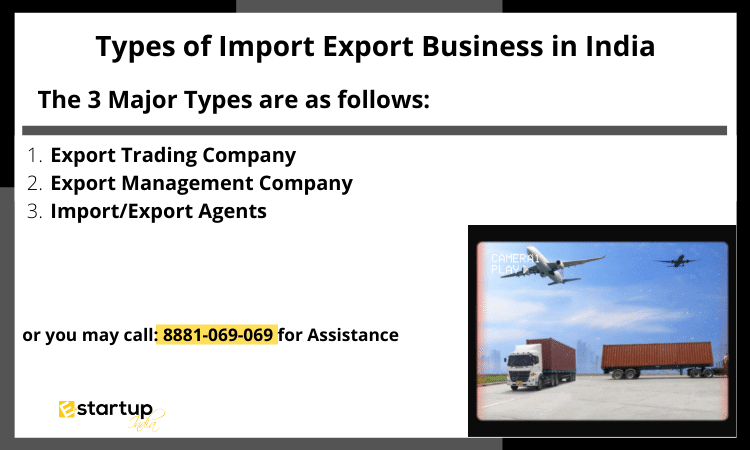 The three major types of Import Export Business in India are as follows:
An export trading company (ETC) gives assistance to companies that specialize in exporting.
Export trade organizations also take care of the legal aspects of exporting diverse products.
Furthermore, Export Trading Companies discover local businesses that can provide overseas purchasers with what they need and export it.
Export Management Company
An export management business is a privately held organization that functions as an export department for a number of non-competing suppliers and manufacturers.
The EMC may also assign sales representatives in importing nations, market the products and services of its customers, organize shipping, give warranties and after-sales service, and grant import credit.
EMC also acts as a service provider for export enterprises. They do everything for the export company, like finding purchasers, vendors, setting up logistics, and so on.
Brokers and agents in the import-export business assist importers and exporters in preparing the appropriate paperwork for exports and imports. Clients might also benefit from their assistance in establishing contacts with overseas businesses.
In the same way that a distributor acts as a middleman, an agent acts as an intermediary.
In contrast to a distributor, an agent does not take ownership of the items and offers fewer services. Getting orders and earning a fee for his services are the agent's main responsibilities.
Procedure to Start Import Export Business in India
Now that you know the types of Import Export Business in India, you must also know the procedure to start the business. The procedure to start an import-export business in India is mentioned here in brief.
Have Legal Company Registration
An Indian company must be registered before it can begin operations. You must register as a firm/LLP or single-owner business. As a result, every company structure is tailored to your needs. You may register your company in a variety of ways to meet your specific requirements.
The major types of Company Formation to start Import Export Business in India are as follows:
Important Note: Make sure to have your company's PAN and TAN handy for the next steps.
Import Export Code or IEC Code As per the Rules and Regulations, Every Indian importer and exporter must be registered with the Indian government. When you get IEC Code So,  you're signing up with the DGFT (Directorate General of Foreign Trade).
PAN cards serve as the basis for the Import-Export Number, which is a ten-digit code used to facilitate import and export transactions.
Every exporter of agricultural goods must be registered with APEDA.
Furthermore, agricultural exporters must have an APEDA Registration certificate in order to take advantage of APEDA incentives while exporting scheduled agricultural goods.
Apply for Mandatory Registration &  Licenses
There are some mandatory registrations and licenses that you need to operate your import-export business legally in India. For example, GST Registration and Trade License.
In addition to helping you establish your firm as a legal entity, GST registration gives you access to a slew of new possibilities for your company.
When a person applies for a trade license, they are granted permission to engage in a certain trade or business in a specific location.
Trade licenses must be obtained from provincial authorities in order to operate.
Moreover, you require any kind of guidance related to the Import export code, please feel free to contact us at 8881-069-069.
Download E-Startup Mobile App and  Never miss the latest updates narrating to your business.