With the rise of technology bidding or tender has also changed. Many government agencies now offer online tender only. This saves the agencies as well as businesses applying for tender from many hassles. Thus, if you are an individual or a business entity looking for the best online tenders, you must get a digital signature certificate. In this article, you will get to know the advantages of digital signature for online tender.
Moreover, we will also discuss the process to get a digital signature certificate and the Advantages of Digital Signature for Online Tender.
What is a Digital signature certificate?
Digital Signature Certificate or DSC is a digital identity. Similar to a passport or a driving license, a DSC acts as an important identification tool.
The DSC also works as a digital sign that is highly secure and easy to use. In other words, to authenticate and secure documents, people are using modern techniques such as digital signature certificates.
It is also one of the secure methods to submit the documents electronically and thus, anyone can acquire it to sign the e-forms.
To get the DSC, you need to apply to the certifying authority(CA). Furthermore, there are three types of Digital Signature Certificates in India.
The three types of Digital Signature Certificates are as follows.
Class 1 DSC
Class 2 DSC
Class 3 DSC
What are the significant Advantages of Digital Signature for Online Tender
Digital Signatures are used to sign electronic records such as e-forms for online tender, in the same way, that handwritten signatures are used to sign physical papers.
One can easily sign documents of online tender reapplication using a digital signature certificate. Thus, this saves their valuable time and effort.
DSCs are valid for a long period such as one or two years. Thus, for a low price, you avail yourself of a lot of benefits for a long duration.
Using DSC you won't have to physically manage all the documents or always be fearful of losing the documents. You can easily sign e-forms using DSC and then submit them online.
Can we use DSC elsewhere too?
Yes, the advantages of digital signature for online tender are multiple. However, you can also use DSC for some other purposes including:
For encrypted communications and digital payments, as well as to identify other web-based transaction parties.
To create SSL/ TLS encrypted protected connections across your website and the client for digital purchases and to confirm domain registration.
To seamlessly connect with websites without having to enter login details, sign web forms, e-tendering papers,  Income tax return filing, etc.
Which type of DSC do you need for online tender?
For online tenders, you must have a class 3 DSC. It's also necessary for bidding in online auctions. This is the safest certificate available.
As a result, It is utilized in situations requiring a high level of security and safety. It is mostly utilized in online trade and e-commerce transactions involving large sums of money or extremely private information.
Moreover, All services designed for Class 2 should be able to recognize your credentials if you choose a Class 3 certificate.
Along with Class 3 Digital Signature for online tender, you can and might need to use it for E-tendering, Patent Registration and Trademark registration, MCA e-filing such as Form INC-22A, Import export code Registration, E-procurement, E-bidding, E-auction, etc.
What are the various Advantages of Digital signature
Digital signature certificates offer several advantages for everyone.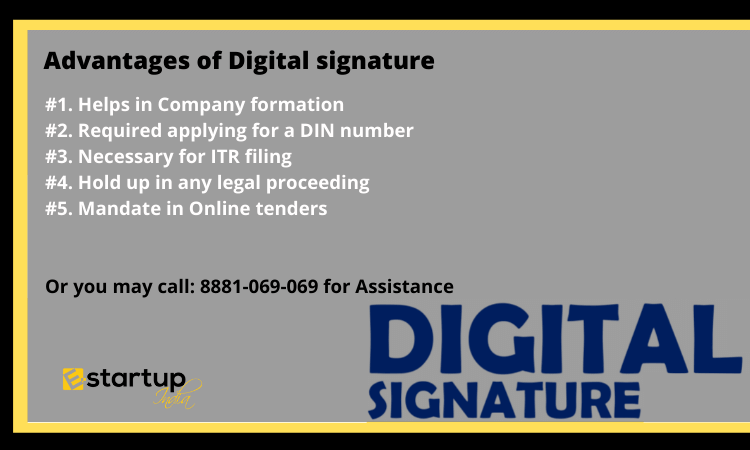 The most significant ones are highlighted below:
If you're forming a Public Limited Company registration, a Private Limited Company Registration, an LLP Registration, or  One Person Company Registration, you'll need a Digital Signature Certificate.
When applying for a DIN number, you must have a Digital Signature Certificate (DSC).
It is necessary to do ITR filing with a Digital Signature Certificate for all individuals/professionals with an annual gross receipt of more than INR 25 lakhs and for enterprises with an annual turnover of INR 1 crore and above.
With a digital signature, you can complete a deal quickly and perhaps enter into a contract and close official documents from multiple parties. Apart from that, legal agreements, bills, and any other documentation that takes longer to close due to an ink signature might even be readily streamlined.
The legal validity of a digital signature certificate is guaranteed by ensuring that the e-signature is validated. It will hold up in any legal proceeding.
Difference between Electronic Signature and Digital Signature
Moreover, you require any kind of guidance related to the Digital Signature Certificate. Please feel free to contact us at 8881-069-069.
Download E-Startup Mobile App and  Never miss the latest updates narrating to your business.