Food Truck Businesses are a popular choice for businesses as well as customers these days. In India, the trend of the Food Truck Business is rising. These businesses offer a wide variety of food and hence attract a lot of customers. If you want to start a food truck business or already have a food truck business, you must know about FSSAI Registration. FSSAI Registration is legal compliance as well as beneficial registration to grow your business. In this article, we will understand the concept of FSSAI Registration for Food Truck Business.
What is a Food Truck Business? 
Food Truck Business is a common type of FBOs( Food Business Operators) to sell their products as a vendor.
In this business, FBOs usually use large vehicles such as Vans or Trucks to sell food items. Furthermore, some food businesses also cook and sell the food item in the same product.
These food trucks however travel to multiple places at multiple times to sell their items.
It is also a common choice for entrepreneurs who want to know how to start a food business in India without investing a large amount of capital. Thus, Food Truck Business is similar to a restaurant but they don't have a particular shop or an address.
For starting a legal Food Truck Business, you need to apply for some registrations and licenses. One such registration is FSSAI Registration.
FSSAI(Food Safety and Standards Authority of India) is an Indian Government Body that assists and regulates the food businesses in India. It is mandatory for every type of food business regardless of size or activity to register with FSSAI.
As a result, if you are planning to start a Food Truck Business or any business relating to food, you must get FSSAI Registration.
Not having an FSSAI Registration as a Food Business Operator can result in penalties or even punishment.
It is important to note that FSSAI Registration for Food Truck is not only mandatory but also very beneficial. The stepwise procedure to get FSSAI Registration for Food Truck Business can help you easily understand the FSSAI Registration in detail.
Benefits of FSSAI Registration for Food Truck Businesses in India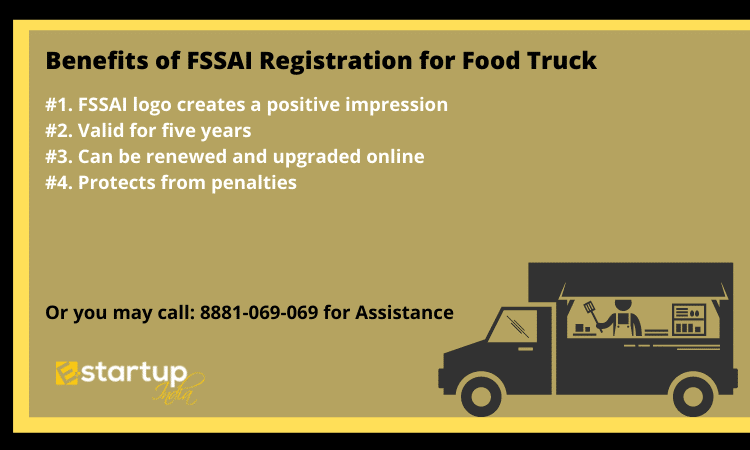 The benefits are written below in brief.
FSSAI registration also assures food quality, so dealers and customers prefer only FSSAI-certified items. Consumers become more aware as a result of it. The FSSAI logo creates a positive impression of the goods in the minds of buyers.
After you have FSSAI registration, Indian consumers will automatically prefer your product since it emphasizes sanitation, quality, and safety.
The FSSAI Registration costs set by the government are reasonable.
You can obtain FSSAI registration for a period of five years.
The FSSAI Registration renewal and upgrade process are done online.
FSSAI Registration is a simple process that you may do online using our web portal.
It provides you with legal advantages and consequently protects you from penalties and punishment.
How to get FSSAI Registration for Food Truck Business? 
To get FSSAI Registration for Food Truck Business, you need to follow the steps as follows.
Firstly, Decide the category of the FSSAI Registration you need to apply from  FSSAI Criteria or understand the FSSAI Registration types for Food Truck Business from the following list:

Single Vehicle and annual turnover up to Rs. Twelve Lakhs – Basic FSSAI Registration
Vehicles up to one hundred and annual turnover up to Rs. Thirty Crores – FSSAI Registration State License
Vehicles more than one hundred and annual turnover more than Rs. Thirty Crores – FSSAI Registration Central License

Prepare and fulfill the document requirement for FSSAI Registration
Fill out an application form on the FoSCos portal.
You can also contact our business advisors at – 8881-069-069 to get the FSSAI Registration for Truck Businesses or any food business saving you from the hassle. In addition, our FSSAI experts can assist you in document preparation for FSSAI Registration saving your valuable time, money, and energy.
Other Licenses or Registration essential for Food Truck Business 
NOC From Fire Department since food truck businesses carry electrical appliances and gas.
Depending on your region, you may require a letter of authorization or approval from the local government.
Commercial Business License from RTO.
If your municipality requires it, you'll also need to apply for a one-year Trade License or Eating House License.
If your Food Truck Business employs more than ten employees, you must register with your state's labour department for a Shop Establishment Certificate.
You can establish your company as a Sole Proprietorship Registration, Partnership Firm, or even an LLP Registration to limit your risk. In this instance, you'll additionally need a PAN and TAN for your business.
It is also strongly recommended that you get:
Moreover, you require any kind of guidance related to the FSSAI Registration, please feel free to contact our business advisors at 8881-069-069.
Download E-Startup Mobile App and Never miss the latest updates reciting to your business.