Do you want to start a business selling electric car charging stations in India? Then congratulate yourself on taking the first step in establishing yourself as a socially responsible business person. Not to mention that establishing an EV charging station is a highly profitable business opportunity since green transportation efforts are widely supported across the world. In this article, you will learn EV charging station business plans in India.
Scope of EV Charging Station Business 
EV Charging infrastructure refers to the ability to charge an electric car from an electrical facility. This is precisely how fuel pumps seem.
The need for EV charging stations is always rising, and in the next few years, when the majority of vehicles will be electric, the demand will skyrocket.
Furthermore, the demand for electric charging stations will rise, as forecasted by the Indian government.
The Indian government has taken an active role in promoting green mobility. The effort will undoubtedly have an influence on the motor industry in the coming years. In fact, analysts believe that there will be a lot of possibilities in the two and three-wheeler areas in the future.
By 2030, utilization of EV two and three-wheelers are predicted to increase by 70-80 percent.
As various EV regulations were released by the State and Central Governments last year a prospective entrepreneur may surely investigate the chance to start up an EV charging station company in India, providing he/she fits certain conditions.
Advantages to start EV Charging Station Business Plan in India
Finance Minister Nirmala Sitharaman announced in the 2019-20 budget an extra tax exemption of Rs 1.5 lakh on interest payable obtained to purchase EVs.
The government has announced the comeback of hybrid electric systems or electric kits into automobiles, as well as the procedure for approving electric vehicles, to stimulate the use of electric vehicles.
Electrification will aid in the reduction of automotive emissions, a major contributor to air pollution that costs the economy an average of 3% of its GDP each year.
The National Electric Mobility Mission Plan (NEMMP) 2020 and the Faster Adoption and Manufacturing of Hybrid and Electric Vehicles (FAME) schemes were both established with the goal of transitioning autos to an all-electric future by 2030.
During the years FY2018-FY2023, the electric vehicle market in India is expected to develop at a CAGR of over 37%.
It is predicted that by 2022, the manufacture of electric cars and their components would account for a quarter of India's GDP.
EV charging stations have been mandated by the Indian government every three kilometers in cities, 25 kilometers of highways, and 100 kilometers of highways for heavy-duty vehicles.
Stepwise Procedure to start EV charging station business plan in India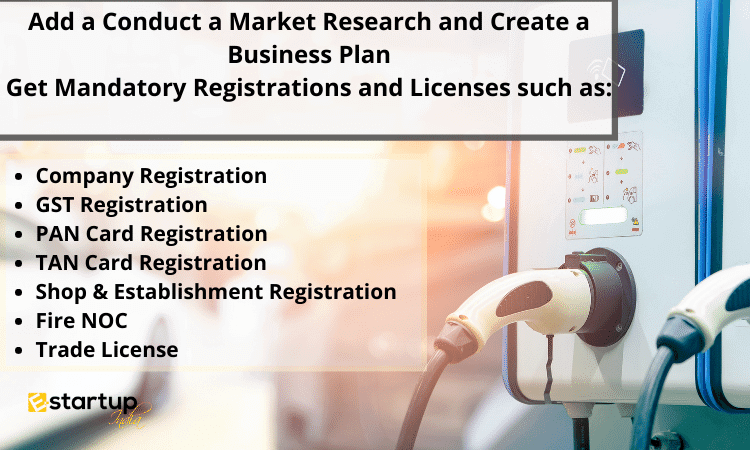 Conduct a Market Research and Create a Business Plan
So the first thing you need to determine when setting up an EV charging station in India is the range and kind of electric vehicles you intend to charge.
Here are a few areas to focus on:-
Electrified vehicles, such as buses and cars, can have their charging needs met. Alternatively, you may want to look at E-Trucks, which are bigger vehicles.
Another option is Setting up a charging station for an E-Rickshaw and that might be all you need to get started.
It's also a smart idea to focus on the three-wheeler category. In order to make the classic Bajaj 3 Wheelers more modern, you may provide charging services. Other than that, your charging station may be used to charge small electric scooters.
Additionally, you'll have to make a choice on the quick charging methodology you'll use.
This means that before you start building an EV charging station, you should familiarize yourself with everything you can about electric vehicles and fast charging methods before you take any action.
If you're familiar with the Japanese and European EV charging choices, you'll be more prepared.
Get Mandatory Registrations and Licenses
Company Formation
To start any business legally in India, you must have a company formation or business registration. The types of Company Formation that you can have to start EV Charging station business plan are as follows:
GST Registration
Under GST, charging an EV by a PCS constitutes a provision of service, which means that the activity of charging will be taxed at 18 percent.
Hence, to start EV Charging station business plan in India, you need to get GST Registration and do GST Return Filing.
ISO Certification and Trademark Registration
These days competition is high in every business. The same goes for EV Charging Station businesses. As a result, to become competitive, provide high-quality products and services, and secure your business, you need to apply for ISO Certification and Trademark Registration.
Other Requirements to start EV Charging station business plan
All three kilometers of the grid should have at least one charging station built in them.
Each side of a highway or road should include a charging station every 25 kilometers.
Fast charging stations should be accessible on both sides of roads for long-range and heavy EVs.
Charging stations must be provided within Transportation Nagars and bus terminals in cities.
Existing retail outlets (ROs) of Oil Marketing Companies (OMCs) might receive precedence in receiving approval to install PCS from the competent authorities (State/Central/UTs).
Heavy-duty electric vehicles, such as buses, require a big charging area with the following specifications:

Installing at least two 100-kilowatt (CSS and CHAdeMO) chargers is required.
A high-speed charging facility with appropriate Liquid Cooled Cables to charge Fluid Cooled Batteries.
For heavier electric cars, FCS (Fast Charging Stations) must include battery changing facilities to fulfill the charging station's standards.
The Final Word
Scopes and advantages to start EV Charging Station Business plan in India are huge. However, there are certain steps that you need to follow in order to be successful. It's best to consult business experts so that you can smoothly start your business and achieve your goals.
Moreover, If you want any other guidance relating to start EV Charging Station Business or Company Formation. Please feel free to talk to our business advisors at 8881-069-069.
Download E-Startup Mobile App and Never miss the latest updates narrating to your business.