Despite the fact that the handbag industry is now congested, there is still a large market if you know how to target certain handbag purchasers. This guide explains How to start Online Handbag business.
Steps to start Online Handbag business
Construct a Business Plan
When beginning a new business, it's critical to know what you're getting into before you get started. As a result, thorough research and a well-thought-out business plan are a must.
A business plan helps you transform a concept into a tangible plan. In addition, you should conduct market research, taking into account the present purse and handbag market size and buyer demographics.
Thus, some things that you must consider in a business plan to start online handbag business are as follows:
Kind of Website Development
Current Account
Raising capital through a business loan or other sources
An estimate of how much it will cost to run the firm and how much money it will generate.
Raw Materials and Suppliers of the Raw Materials
Equipment Requirement
Competitional Analysis
Get Licences and Registrations to operate Online Handbag Business 
There are several mandatory licences and registrations in India that you need to start online handbag business. For example: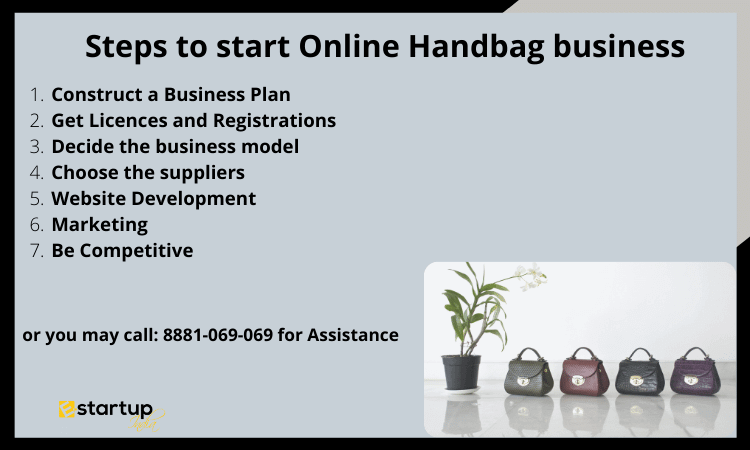 Decide the business model: Wholesale vs Retail
Your goods should be sold either wholesale or retail. When you sell your handbags and purses wholesale, you are able to earn bigger sums of money at once, but your profit margins per item are reduced.
In addition, you'll have direct contact with the designers and manufacturers. You get more money per item sold by selling retail, but you have to hang onto your inventory for longer and only sell a few products to each buyer.
However, you can use the blend of both if you wish to start online handbag business.
Choose the suppliers
If you are manufacturing the handbags on your own then you can skip this point. However, if you are not, then you need to choose the suppliers of handbags. Sourcing handbags becomes an important factor for your online handbag business.
You have the option of buying in bulk from regional manufacturers or searching online stores like Alibaba to get massive discounts. You can also get in touch with several online vendors.
Have an Interactive Website Development
You may put up a business website or utilise e-commerce portals to set up an online-only business or to supplement your physical retail location. If you don't know how to build a website, consider using an e-commerce platform like Shopify. It's also possible to set up shop as a third-party seller on popular e-commerce platforms such as Amazon, eBay, and Etsy.  However, it's best to have your own website through website development from professionals. As it provides you freedom and several other Benefits of Website for Business.
Marketing
For every online business, marketing plays an essential role. Digital Marketing allows you to sell your products online without spending a lot. There are several ways to market your online handbag business including:
SEO
PPC
Social Media
Trade Show Participation
Digital Events
Be Competitive 
The handbag business has a lot of competition. Therefore, you need to be one step ahead of your competition to succeed. To do so, you need to have Trademark Registration Online and ISO Certification.
If you register a trademark in India, you get the legal rights to own all the branding of your handbag. As a result, others can not misuse your identity and tarnish your brand identity.
Similarly, ISO Certification offers you several benefits such as:
Build a Credibility
Set international standards for your products
Efficient and Timely delivery of products
Compliance with legal authorities
Solid reputation in International Markets
Important Note: Using MSME Registration or Udyam Registration, you can get reimbursements and subsidies from the government for Trademark Registration and ISO Certification.
Moreover, If you want any other guidance relating to Company Formation. Please feel free to talk to our business advisors at 8881-069-069.
Download E-Startup Mobile App and Never miss the latest updates narrating to your business.