If you want to start a business with a small investment, you can start online perfume business. The demand for perfumes and deodorants is rising every day, especially among women. Women love to keep a variety of perfumes in their wardrobes for various occasions. However, to start online perfume business.
Advantages of starting online perfume business
Perfumes and deodorants are always in high demand, especially in boutiques and supermarkets.
You can earn a lot from your perfume business if you brand your product correctly.
The supply cost is low, but the profit margins are high.
Like any other online business, there are various steps to keep in mind before starting an online store. For example, You need to market your product, research and also complete legal steps like GST Registration in India and register trademark in India.
Steps to start online perfume business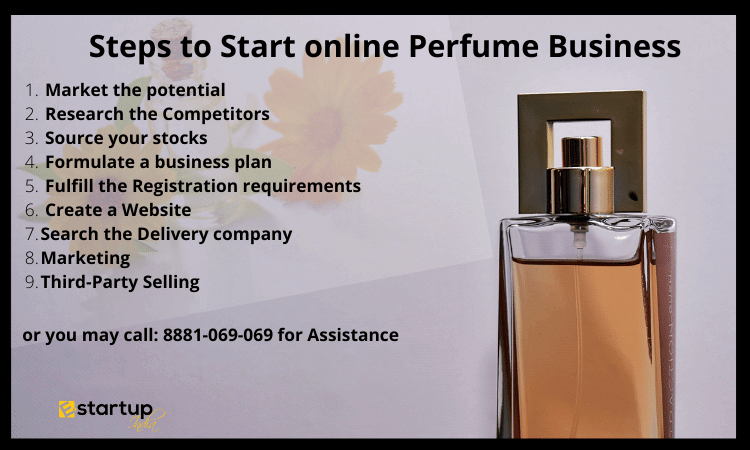 1. Market the potential
Nowadays, a lot of importance is given to personal hygiene, appearance and there is growing consciousness about body odour. Therefore the demand for perfumes has increased.
First of all, you need to select the type of perfume you are willing to sell. Some of the popular types of perfume include:
Body deodorant
Celebrity perfume
Exotic fragrances
Anti-sweat roll-ons and perfumes
2. Research the Competitors 
You need to thoroughly go through every competitor's perfume website and online forums to gather information on the perfume purchasing trend.
3. Source your stocks
You need to stock trendy perfumes to be able to cater to the customers. Contact some perfume wholesalers and the market and get quotations. Now you have to compare the selling price and calculate the profit you get to keep.
Remember to select a wholesaler who can offer a wide range of products both in the gents and ladies section. It's good to have a business loan or enough funds in advance to get the relevant products from wholesalers.
4. Formulate a business plan
You need to create a proper business plan if you are planning to take a business loan from a financial institute. The business strategy must include all the operational costs and the plan to recover from investments and make a profit.
5. Fulfill the Registration requirements 
The next step is to get beneficial and important registrations such as: 
6. Create a Website
Website development is necessary as a website is the main identity of your online business. The website has to be attractive, and offer a classy feel.
Most people prefer to order products online because it is convenient. So you can also develop a mobile application for your online business with the help of an expert app developer. Remember to add secure gateways, payment methods, and a current bank account for safe transactions.
7. Search the Delivery company 
You have to partner with a popular and trustworthy courier service that can ship your product across the country. Perfumes are stored in fragile glass bottles. Hence they have to be carefully shipped in cushioned delivery boxes.
8. Marketing 
Spread the word about your online perfume business through proper channels. You can use social media to generate curiosity among potential customers. You have to post regular updates so that people remember you.
9. Third-Party Selling
For more sales, you can register on any popular e-commerce store like Amazon or Flipkart. You can now reach the global customer base and expand your business. You only need to pay a certain percentage of the profit to the e-commerce giants when you make a sale. Here, you will also need to have a bookkeeping and accounting service to properly operate your business.
Conclusion 
The online perfume business has a huge scope especially as people are learning about hygiene and maintenance. So, if you wish to start online perfume business in India, it is the right time to do so.
Moreover, If you want any other guidance relating to Company Formation. Please feel free to talk to our business advisors at 8881-069-069.
Download E-Startup Mobile App and Never miss the latest updates narrating to your business.