Hair oil production is a global industry that sells items to both men and women. In fact, there are no cultural restrictions on the use of hair oil worldwide. Indeed, physicians frequently prescribe that individuals with dry scalps use hair oil on a daily basis. Hence, there are several advantages to start hair oil manufacturing business. If you're thinking of opening a hair oil manufacturing company in India, this article will be a huge assistance for you.
Advantages to start hair oil manufacturing business 
An increasing number of people are turning to Ayurvedic products like herbal hair oil because of the health advantages that come with using them. Because of this, establishing a hair oil business in India will be lucrative.
Because of our ingrained tradition and propensity for all things natural, launching an oil manufacturing company in India has become a successful venture. There is no limit to how much money you may make in your business if you can treat your customers' pain points with powerful oils that are organic in nature and toxin-free.
Exporting your hair oil to nations where the need for authentic herbal oil products is on the rise is a great way to expand your business. In addition to that. The product's demand is greater than its supply.
There are several hair oils that you can make such as Amla Oil, Coconut Oil, etc. These oils all have the same starting point. Additionally, a little sum of money needs to be invested to get started.
Scope of Hair Oil Industry in India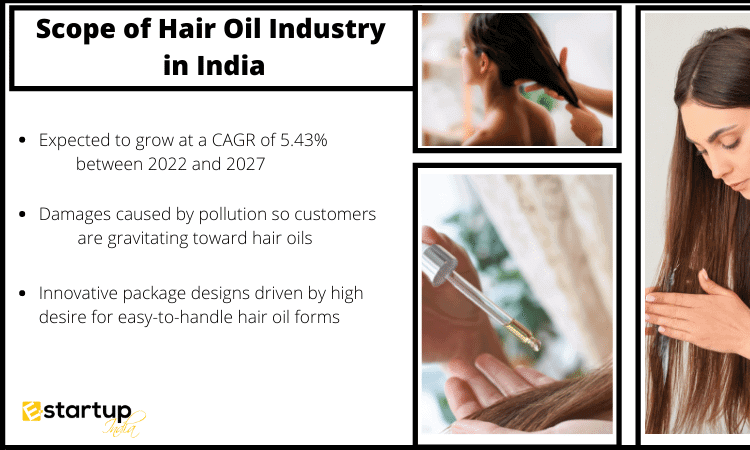 The hair oil market in India is expected to develop at a CAGR of 5.43 percent between 2022 and 2027.
Because of the damages caused by pollution on a regular basis, the hair becomes dry; as a result, customers are gravitating towards hair oils, which may prevent the hair from drying and even encourage density in the individual's hair volume. Because hair oils are one of the greatest hair care products, consumers are choosing these products, which is propelling the market growth.
Investment in innovative package designs is being driven by a high desire for easy-to-handle hair oil forms. Innovative hair oil bottle designs are being promoted by some of the world's leading companies as e-commerce shopping continues to grow.
How to start Hair Oil Manufacturing Business in India?
Research the Consumers
Identifying the market for hair oil in your area is crucial before starting a genuine business. There are three main types of oil on the market.
There's light hair oil, a thick hair oil, and even a cooling hair oil in there. Starting a new business with modest capital investment means that you should focus on one market area at a time, as opposed to large companies that cater to all of the hair oil markets.
Selecting the finest sort of hair oil for your business depends on thorough market research.
Licenses &  Permits to Start Hair Oil Manufacturing Business
You'll need a number of government registrations and certifications to get your firm off the ground. Your state's laws may differ. In this section, we'll cover some of the essentials.
Discover How Hair Oil Is Made
Hair oil may be made in a variety of methods. The strategy you choose depends on the audience you're trying to reach. Each country and state has its own unique method.
You may discover all you need to know about a certain location's production process by getting in touch with the machinery and equipment provider.
Attend a herbal hair oil production course at a nearby training facility if you can. Make use of online resources to locate an institute or trainer that offers lessons in the creation of hair oils. If none are located locally, this is an excellent alternative.
Make a Business Plan
Take some time off after you've completed your training and begin drafting a business strategy for your hair oil business.
This is a must-have document for any manufacturing company. There is a slew of free resources for creating a business plan available online.
However, it's best to have a business plan and project report made by a professional. This business plan will also help you in getting a small business loan.
Decide on a manufacturing facility's location.
One of the most important aspects of a successful herbal hair oil production business is the location of the plant. If the location is too far away from the immediate target market, transportation costs will skyrocket, resulting in lower profit margins.
Conclusion
Now that you know how to start hair oil manufacturing business in India, you must make a wise decision to complete all the steps in an efficient manner. However, if you require any further guidance, you can contact our business advisors.
Moreover, If you want any other guidance relating to Company Formation. Please feel free to talk to our business advisors at 8881-069-069.
Download E-Startup Mobile App and Never miss the latest updates narrating to your business.