Catering businesses are ideal for people who enjoy cooking and are considering entrepreneurship. Catering is a relatively low-risk business that doesn't require a large initial investment.  Furthermore, The Indian food catering business is expected to increase at a rate of between 25 and 30 percent every year. You may always begin with a small client base when you start catering business and then grow from there. In this article, you will learn about the stepwise method to Start Catering Business in India.
What is a Catering Business?
Catering is the supplying of food service at a distant location or a location such as a hotel, hospital, bar, airline, cruise ship, park, filmmaking location or studio, entertainment location, or event venue.
However, catering does not necessarily entail delivering lunch for attendees at a corporate event or starters or a buffet for guests at a wedding anniversary.
To start catering business in India, you can get your feet wet by hosting dinner parties for a small group of people, or a dessert and coffee bar after the movie.
Stepwise Procedure to start Catering Business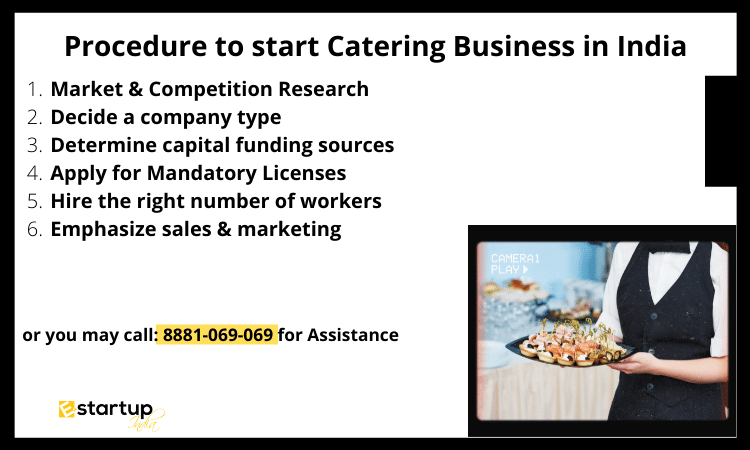 Market & Competition Research
First and foremost, have a look at the competition in your community if you wish to start catering business. You can create a spreadsheet or document that contains the following information:
Name of competitor
Meal category
Demographics
Cost
Size of Business
The next step is to figure out whether there's a need for another catering company in your region, or if your offering is sufficiently unique to make a difference.
Decide on a company type
The next step is to choose a name for your new catering company and define the legal structure through company formation for it after you've decided on the sort of business you want to run.
You'll also have to decide what kind of corporate entity you wish to operate as. You have a wide variety of options here:
Determine your capital funding source
Determining your budget and the source of your funds now becomes essential. Depending on your choices, the budget may vary. Make a budget for on-site equipment, licensing, rental prices, transportation, and other things that you will need to start catering business.
If you don't have enough money to get your catering company off the ground, you might begin looking for investors or a business loan.
Apply for Mandatory Licenses
For a catering company, since you're dealing with food, you may additionally need to register with your state for additional permits and licenses. In certain cases, the health authority may want to inspect your kitchen and preparation area.
There are several licenses issued by the Indian government to food-related enterprises. However, every food catering firm must register with the Food Safety and Standards Authority of India (FSSAI) through FSSAI Registration.
You also need to get GST Registration, and there will be regular inspections by the authorities to ensure that you are adhering to the necessary health and safety requirements. However, you can get ISO Certification to clearly demonstrate your commitment to providing quality products and services.
Hire the right number of workers.
To be successful, each new company must have employees who are committed to their work and who are of the highest caliber.
Initially, you may choose your own chef, sous chefs, and delivery drivers. When you have sufficient finances, you may engage a staffing agency to provide you with skilled and experienced personnel.
Emphasize sales & marketing
Create a marketing strategy to attract new customers. Create business cards, letterhead, and a brochure and apply for Trademark Registration Online to protect your branding.
Cook up a handful of your most popular meals and snap some images to use in your marketing materials. Furthermore,
Having your own website allows you to reach a wider audience and sell more of your products. Thus, Website Development Online through experts allows you to have a unique and SEO Friendly website.
Additionally, you may use food-related blogs to pique the interest of prospective clients and establish a relationship of trust.
Conclusion
It's an incredible feeling to build a company from the ground up and see it succeed. Competition in the catering industry is fierce, but the minimal expense and ability to grow and expand make them ideal for a start-up. If you want more guidance or expert advice on how to start catering business in India, you may contact us.
Moreover, If you want any other guidance relating to Company Formation. Please feel free to talk to our business advisors at 8881-069-069.
Download E-Startup Mobile App and Never miss the latest updates narrating to your business.