The clothing industry is one of the world's most successful enterprises. No longer only a necessity, clothing has become an art form in and of itself. They serve as a sign of social ascendancy. People desire to express themselves via their clothing choices. In a growing country like India, the potential for a ready-to-wear business is practically unlimited. Therefore, to start garment business in India can be a profitable venture. In this article, you will learn how to start garment business in India.
Prepare a business plan to start garment business in India
Your vision, goals, and strategies are all outlined in a company plan. Considers the marketing, operational, and financial aspects of a company.
Additionally, this document will assist you in securing a business loan from a bank and bringing in investors.
You must conduct extensive research prior to beginning work on your business strategy.
Hence, making a detailed business plan and project report is essential for every business including the garment business.
Opportunities for you to Start Garment Business in India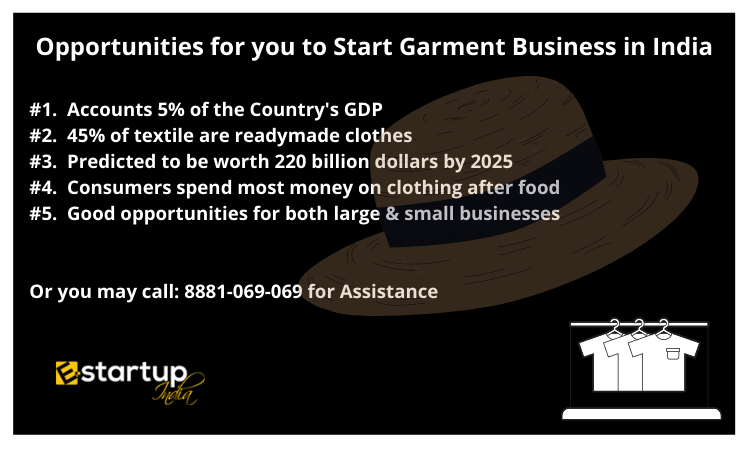 India's textile and garment sector accounts for 5% of the country's GDP.
Approximately 45 percent of India's total textile exports are readymade clothes, which also have a large local market. Furthermore, By 2025, the Indian garment and textile sector is predicted to be worth 220 billion dollars, an increase from its current value of 100 billion dollars in 2019.
Consumers spend the most money on clothing and other items of personal apparel and accessories after food.
Fashion and trends change on a daily basis, which provides good opportunities for both large and small businesses in the clothing sector to thrive.
Understand the Business Models of Garment Business
The several types of Garment Business models are as follows:
It's common for garment production to be capital-intensive and require a well-equipped facility. Weaving or knitting, then dyeing, are the first steps in the production of clothing. All of these procedures need substantial resources in the form of money, equipment, and human resources.
Fabric for clothing is constantly purchased from the market by garment producers. However, the type of cloth and the amount of the order would be different.
Fabric traders that specialize in aggregating demand from the garment industry are the most common source of supply for garment producers.
To begin a fabric trading firm, one needs to have solid contacts with fabric producers and the ability to raise money for working capital.
Fashion Designers & Garment Manufacturers
In order to create clothing from the fabric, it must be sewn together and fashioned into various designs.
Fashion designers and manufacturers have a significant part in this. The apparel sector is always in need of fashion designers.
So, if you want to become a fashion designer, you'll require a lot of expertise in the subject matter. You also need to keep up with the current fashion and design trends.
Fashion and clothing stores
This is the last stage of the garment company, in which products are sold to customers at various venues and via numerous channels.
Clothing selling businesses can be started online or offline, depending on the individual's preference.
Online retailing encompasses a wide range of activities, including website development, advertising, search engine optimization, etc. Marketing and advertising would also be required for offline selling.
Fulfill the Checklist to start Garment Business in India
It's essential to choose an eye-catching and memorable name for your new clothing company before you can even begin to think about what products you'll be selling.
Hence, you can check a company name on MCA Website and then have company registration as per your eligibility criteria and goals.
A private limited company formation is the ideal legal form of business organization to incorporate under for many people.
Open a Current Bank Account
The next step for you is to open a current bank account. You generally need Incorporation Documents, PAN, and TAN to open a current bank account.
Apply for Trademark Registration
Trademark Registration allows you to protect your branding. In a Garment business, Trademark plays a vital role and becomes almost mandatory.
The reason is if you don't have Trademark Registration, others might copy your branding and harm your business in several ways.
GST Registration and GST Return Filing
Prior to paying for interior works and stock, verify that you have a GST registration and GSTIN in the name of the firm. Getting a GSTIN ahead of time might save you money on GST by allowing you to claim GST input tax credit.
Furthermore, you need to have a GST Registration if you plan to supply your goods and services online on an e-commerce store. You will also need to do gst return filing in order to generate e-way bills.
Conclusion
Starting a garment business in India is a great idea. However, entrepreneurs should be careful and go through detailed research. You should also apply for mandatory and beneficial registrations such as MSME Registration, EPF Registration, ISO Certification & Shop Establishment Registration, etc. to provide your business an additional boost.
If you require any further guidance on How to start garment business in India? Please feel free to contact our business advisors at 8881-069-069.
Download E-Startup Mobile App and never miss the brand-new updates relating to your business.