Considering India has a vast population spread out throughout cities, towns, and rural regions, the mobile phone sector is expanding rapidly in the country and around the world as a whole. The tremendous rivalry in the business has resulted in a product that is both technologically sophisticated and reasonably priced. Increased use of the internet and social media is a major factor in the rise of smartphones. All of these elements work together to generate favorable conditions for a company engaged in mobile repair.  In this article, you will learn how to start mobile phone repairing business in India.
Stepwise Procedure to Start Mobile Phone Repairing Business
Prepare a Business Plan
Analyze the Competition
Choose a Location, Company Name & apply Company Formation
Apply for mandatory and beneficial registrations
Gather Raw materials and tools required
Market your business Online
These are the steps to start mobile phone repairing business in India. The detailed information about each step is as follows.
Prepare a Business Plan
To be able to fix smartphones, you'll need to become well-versed in phone repair procedures. You'll also need to know everything there is to know about a phone's internals. Thus, you must formulate a business plan that involves constant learning of mobile devices.
It is difficult to run a business without a Mobile Repair Business Plan and proper management. Thus, consider the following details in your business plan.
Business Structure
Detailed Research of Market
Management and Executives
Financial Documents
Breakdown of Products and Services
Sales Strategy
USP(Unique Selling Point) and Business Model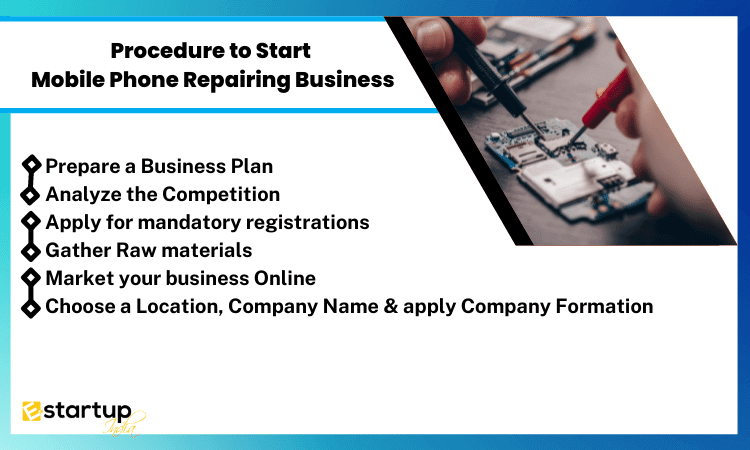 Analyze the Competition
Many smartphone repair technicians have started their own repair shops, but as the number of smartphone users grows, so does the need for accessories and software for mobile devices.
As a result, there is a need to be concerned about the competition while beginning a firm that repairs smartphones. You can use ISO Certification, MSME Registration, and Trademark Registration to gain an advantage over your competitors.
Choose a Location, Company Name & apply Company Formation
Location is a must-have feature for your store; the shop must be conveniently accessible for both residential and commercial clientele. An ideal location for your business is in a suburban or residential location, where you will be able to get new clients from the relatives and friends of your current customers. Providing excellent customer service is a certain method to build a loyal following.
After successfully choosing the location, you need to register your business with MCA. For, Company Formation, you have the following options.
It's also important for you to choose a unique and creative business name or company name. Furthermore, you should have Logo Designing to make your brand and shop eye-catching,
Apply for mandatory registrations
As a mobile phone repair business owner in India, you must have all the relevant licenses and permits before you start mobile phone repairing business.  You must get a certificate and license from the local Municipal authorities, Gram Panchayats, or Tehsils in order to establish your own company in each state and city in India. Some of the most important licenses and registration that you need are:
Gather Raw materials
When you start Mobile Phone Repairing Business, having replacement parts on hand is critical since you can only provide speedy service if spares are readily available. If you want to expand your business quickly, you need to discover a spare supplier in your region and stock up for the long term. You will also need to have tools that you need to operate on mobile devices. Thus, you can utilize a business loan to fund your business to get all the necessary tools and materials required to kickstart your business.
Market your business Online
These days having an online presence for every business is a blessing. Since the younger generation would utilize Google to discover your phone repairing business, so website development becomes the most important. In addition, you need to be active on social media, both in terms of announcing new products and engaging with potential buyers. Investing in marketing from the start is now regarded as a necessity and should be treated as such.
Moreover, If you want any other guidance relating to company formation, please feel free to talk to our business advisors at 8881-069-069.
Download E-Startup Mobile App and Never miss the latest updates narrating to your business.