Cloud kitchens have suddenly become the only viable option for managing high rental costs and low-profit margins, because of cloud technology and the ongoing Covid epidemic. The cloud kitchen, often known as the digital restaurant, is the most recent trend in the food industry that has swiftly established itself as a powerful restaurant model. It appears that Cloud Kitchens would be a better approach to managing a restaurant company in light of the current state of affairs in the restaurant industry: intense rivalry, high rents, and growing prices. If you wish to start cloud kitchen business in Delhi or India, this article is for you.
What is Cloud Kitchen?
Cloud Kitchen is simply a delivery-only kitchen that takes online orders but does not have any dining facilities for customers to use. Deliveries are made to clients' homes from a central culinary facility.
All-in-one cloud kitchens can either have their own online ordering website and mobile app, or they can take orders from multiple delivery services.
Since the major source of income for these online restaurants is through various food ordering platforms such as Swiggy, FoodPanda, Zomato, etc., it is vital to have a check-in system to keep track of the supplies and the quantity that the firm earns from multiple platforms.
Cloud Kitchen eliminates the need to manually add and measure orders from many ordering systems at the end of each day.
Advantages to start Cloud Kitchen Business in Delhi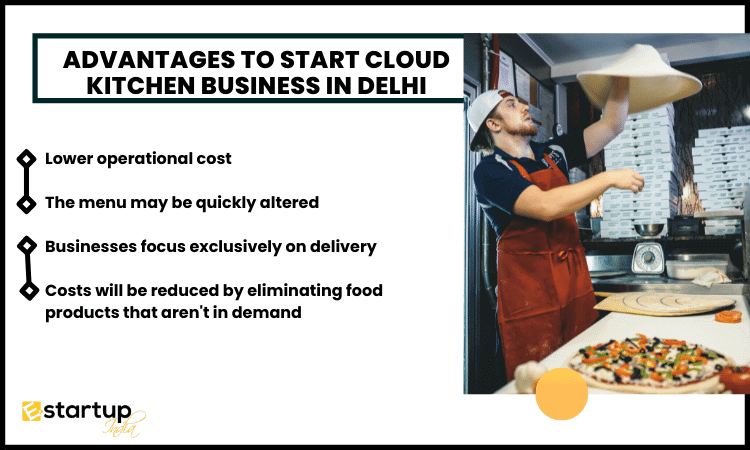 A virtual restaurant idea enables operators to experiment with novel concepts and offers without the extra burden of sky-high rents or the requirement to deliver an in-service experience to visitors.
When compared to restaurants, the cloud kitchen company offers a lower operational cost. Firstly, there is less expenditure on renting real estate, which results in a lower cost.
In contrast to a restaurant, the menu may be quickly altered in a cloud kitchen. Instead of spending time and money on altering physical menus, this may be accomplished digitally in a matter of minutes.
Your costs will be reduced by eliminating food products that aren't in demand, thanks to the ability to track data provided by technology.
Sometimes, restaurants have little choice but to degrade their food's quality because of rising expenses. Cloud kitchens, on the other hand, take great care in preparing their cuisine. The cloud kitchen idea is built primarily on supplying clients with high-quality cuisine at affordable pricing.
When it comes to efficiency, cloud kitchens have a leg up on traditional dining establishments. Restaurants find it challenging to meet the needs of both dine-in and take-out customers at peak times. However, because cloud kitchen businesses focus exclusively on delivery, they are typically more efficient. The distribution procedure has been streamlined and made much easier.
How to start cloud kitchen business in Delhi?
To start cloud kitchen business in Delhi, you have to follow the following steps.
Have Company Incorporation
The Company Incorporation or Company Registration is the first task that you need to do. The type of company registration that you have will decide the taxation, liabilities, income separation, capital investment, and much more.
Decide the Location
The key differences between a traditional restaurant and a cloud kitchen are the location and property.
There's no requirement for a high-traffic area or a good real estate location for a cloud kitchen. Because there is no House Front, it may simply be set up in a medium-sized space.
When deciding where to open a food business, consider the demographics of your target market and the products you'll be selling. There needs to be a strong demand for the food that you're going to be selling in order to have a successful cloud kitchen.
Apply for essential Licenses and Registrations
To create a cloud kitchen, you'll need the appropriate permits and certifications for a variety of reasons. Another reason to have your licenses organized is that doing so will keep you out of trouble in the future.
Furthermore, because customers can't visit the outlet personally to check for cleanliness, food safety, and preparation, appropriate licensure provides a sense of security.
Lastly, You may highlight these on your website and in marketing campaigns to persuade clients that you create high-quality foods.
Thus, the essential Licenses and registrations to start cloud kitchen business in Delhi are:
Trade License
Fire Department NOC
Obtaining all the necessary licenses is a time-consuming and tiresome process that should be outsourced online.
Marketing 
Marketing is one of the most crucial aspects of cloud kitchens. As most of your customers will be ordering online, you will also need to advertise online.
You can utilize the business website and then use SEO.
Lastly, you should also apply for beneficial registrations and certifications such as:
These registrations and certifications will separate you from the competition. Your business will have a unique brand image and a solid reputation if you utilize ISO Certification and Trademark Registration.
Scope of Cloud Kitchen Business in Delhi
According to RedSeer Management Consulting, a commercial cooking facility that does not include a dining area and only accepts online orders is expected to become a $2 billion market in India by the year 2024.
From the previous year's total of $400 million. 21% of those polled claimed they were more inclined to increase their online ordering of meals for pickup following the lockdown, while just 9% said they were more likely to further increase their frequency of restaurant visits.
India's food ordering business is expected to grow at a CAGR of 16% to $17 billion by 2023, according to DataLabs by Inc42. Cloud kitchens are anticipated to be worth $1.05 billion by the year 2023.
Moreover, If you want any other guidance relating to Company Formation. Please feel free to talk to our business advisors at 8881-069-069.
Download E-Startup Mobile App and Never miss the latest updates narrating to your business.