Rice Export Business in India is highly profitable. Rice is one of the most grown crops in India and it is also one of the primary demands of foreign nations. As a result, exporting rice from India can be a successful business venture, and anyone interested in starting an import and export firm should know about the complete process. In this article, you will understand the complete process to start rice export business in India. You will also understand the export business in India and the top countries that import rice and hence you can start rice export business from India.
What is Export Business?
An export company entails transporting commodities or services from one nation to another. Hence, Export Business is simply a business of supplying goods or services from one nation to another.
Complete Process to start Rice Export Business in India
To start rice export business in India, you need to apply for some mandatory registration and licenses. These are discussed below
Apply for Company Registration
Any business to start working needs to have a company registration. Company Registration is the initial step and it simply means legally establishing the structure of your business.
It also allows you to decide the brand name and have a Logo Designing so that it can be recognized in the marketplace.
The Company Registration in India also allows you to decide the decision-makers, partners, shareholders, proprietors, etc.
To apply or learn more about Company Registration you can visit:
Important Note: Make sure to have your company's PAN and TAN handy for the next steps.
Open a Current Bank Account
Export Businesses need a current bank account for multiple reasons. A current Bank Account allows your firm to carry out day-to-day business transactions smoothly.
Furthermore, to receive the foreign remittances of large amounts and avail of the overdraft facilities, you need to have a current bank account.
Get the Import-Export Code Registration to start rice export business in India
Import-Export Code is the next step to start rice export business in India after having Company Incorporation.
IEC Code Registration is a mandatory registration for every importer and exporter in India. It is basically a registration with DGFT(Directorate General of Foreign Trade).
The Import Export Code is a ten-digit code based on the PAN Card and it acts as a passport for import and export business.
You can learn more about Import and Export Code through our guide at- Import Export Code Registration PDF
Apply for AD Code Registration
According to legal provisions, you mandatorily need two registrations before executing an import and export business in India. The first is IEC Registration, and the second is AD Code Registration. You cannot launch an import-export firm in India without these two registrations.
The AD Code Registration is mandatory for customs clearance. Besides, it ensures that foreign remittance in the current bank account of the business is from a legal channel.
One of three papers required for export customs clearance is a shipping bill. You can't create a Shipping Bill on Icegate, Indian Customs' electronic data interchange platform, unless you have an AD Code.
Get the FSSAI Registration for Exporters
FSSAI stands for Food Safety and Standards Authority of India. It is a government body that regulates food products and services in India.
Having the FSSAI Registration is mandatory for every FBO(Food Business Operator) in India. Moreover, FSSAI Registration Certificate carries a valuable reputation worldwide.
Your products will be easily recognized in the foreign marketplace if you have FSSAI Registration.
Acquire Trademark Registration 
Trademark Registration is also one of the important registration that you should have while starting an export business.
There is a high chance that other business competitors can misuse your branding or mark in the international market. Hence, to protect your branding and business reputation, you need International Trademark Registration.
Advantages of International Trademark Registration are plenty and you should have it in advance before commencement of the business.
The trademark registration allows you to have legal rights over the mark and thus your business becomes the sole owner of the brand reputation.
Obtain MSME Registration for exporters
MSME Registration or Udyam Registration is not a mandatory registration. However, it is mandatory to get MSME Registration if you want to avail certain benefits from the government and banks. MSME Registration offers several benefits including:
Achieve ISO Certification
ISO Stands for International Organization for Standardization. It is the most popular and valuable certification worldwide.
Achieving the ISO Certification signifies that your products and services are of high quality and abide by international standards.
Achieving the ISO 9001 Certification for QMS and ISO 22000 certification for FSMS can become a game-changer for rice exporters in India.
ISO Certification for QMS(Quality Management System) symbolizes that your products have rigorous quality management techniques. It also signifies that your firm has a commitment to quality products and customer satisfaction.
On the other hand, ISO Certification for  FSMS(Food Safety and Management System) indicates the quality, safety, and hygiene of your food product. It also enables you as an organization to implement improvements for food safety systems and practices.
Get GST Registration to start rice export business in India
GST stands for Goods and Service Tax and it is the indirect tax levied on the supply of goods and services.
As per Government rules and regulations, every export or import business in India needs to mandatorily get GST Registration.
Every export or import business in India needs to get GST Registration whether they exceed the turnover limit or not.
Having GST Registration while you start a rice export business in India offers several advantages. For example:
E-Commerce Platforms need you to mandatorily have GST Registration if you want to sell on their portal. Hence, you can expand your business online only if you have GST Registration.
You can claim Input Tax Credit after GST Return Filing.
Having GST Registration and GSTIN enables you to sell products inter-state in India too. Without having GSTIN you cannot trade inter-state.
Multinational Companies are generally not so comfortable dealing with small or micro-businesses. However, they will do business with you if you showcase your tax registration proof.
Attain APEDA Registration and FIEO Registration to start rice business
APEDA stands for Agricultural & Processed Food Products Export Development Authority and FIEO stands for Federation of Indian Export Organisations. Registering with both of the organizations is known as APEDA Registration and FIEO Registration.
Both these organizations provide several benefits to exporters in India. APEDA has more focus on agricultural exports and FIEO has more focus on representing Indian Exporters in Foreign Marketplaces.
Hence, if you are planning to start rice export business in India, you should get APEDA Registration and FIEO Registration to avail yourself of multiple benefits. Some of the most valuable benefits you get as an exporter after having APEDA Registration and FIEO Registration are as follows.
Avail Financial Schemes from the Government.
APEDA Registration is a one-time online process and you have to renew it only after five years.
Fulfill the eligibility for Participation in International Trade Fairs and Orientation and training Programmes conducted by APEDA for Export Promotion.
Exporters having FIEO Registration get a ten percent discount on all their national and international air tickets.
Get valuable guidance and international exposure for your export business.
Avail of the free online store running subscriptions from eBay and amazon after having FIEO Registration.
Benefits to Start Rice Export Business in India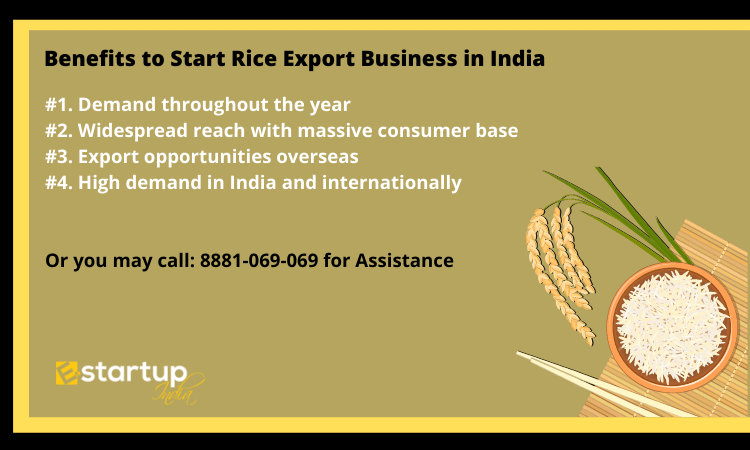 The benefits are written below: 
Demand remains constant throughout the year.
Widespread reach because of the massive consumer base.
Export opportunities with a growing customer base overseas.
There is a high demand for rice products in India and internationally.
Tips to keep in mind before you start rice export business in India
Once you've decided to start a rice export business in India, you'll need to learn about current export trends, emerging markets and capacities, continuing competitive forces, trade policies, and so on. It is necessary to conduct a depth examination prior to entering international marketplaces. Hence, you should gather information about Indian export policies and trends of international markets and you will be safe and profitable in the long run.
The next phase is to build a strong brand name, a corporate identity, and dynamically advertise it. You can utilize web development services and digital marketing services to do so.
The most significant risk element in the export business is non-payment by the purchasers. As a result, the Export Credit Guarantee Corporation Limited (ECGC) manages the risks associated with international commerce and you should register with it.
Expenses play a factor in the success or failure of a start-up. As a result, When investing large sums of rupees to start export business in India, it is necessary to have a strategic strategy for investing gradually and consistently. Furthermore, you should know about the countries that import rice and find opportunities there.
Countries that Imported Rice and have high demand
China
Saudi Arabia
United States of America
Iran
Philippines
Iraq
Benin
United Kingdom
Malaysia
France
Furthermore, If you require any kind of guidance related to How to Start Rice Export Business in India, please feel free to contact our business advisors at 8881-069-069.
Download E-Startup Mobile App and Never miss the latest updates reciting to your business.